I bought a HOT coloured crinoline off of a frugal bride.

It's stunning. I have no yet tried it on with my dress to see what it looks like, but I hope it works out. Also don't want to tell you the colour and ruin any possible surprises.

I started looking online for other brides who wore fun coloured crinoline under their dress. Here's some neat pictures i came across: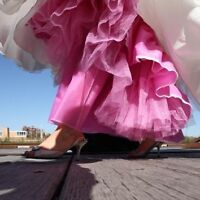 This dress is just overall stunning!




"Something Blue"




love Love LOVE ... did I say Love?




Not crinoline, but look at this dress! Wowzers!! Totally want this dress. TARA!!! Pick purple when you decide to marry k?




I'd love to show you my dress and get your opinion, but I can't :)

Guess you'll have to wait and see come November!!

122 more days!!